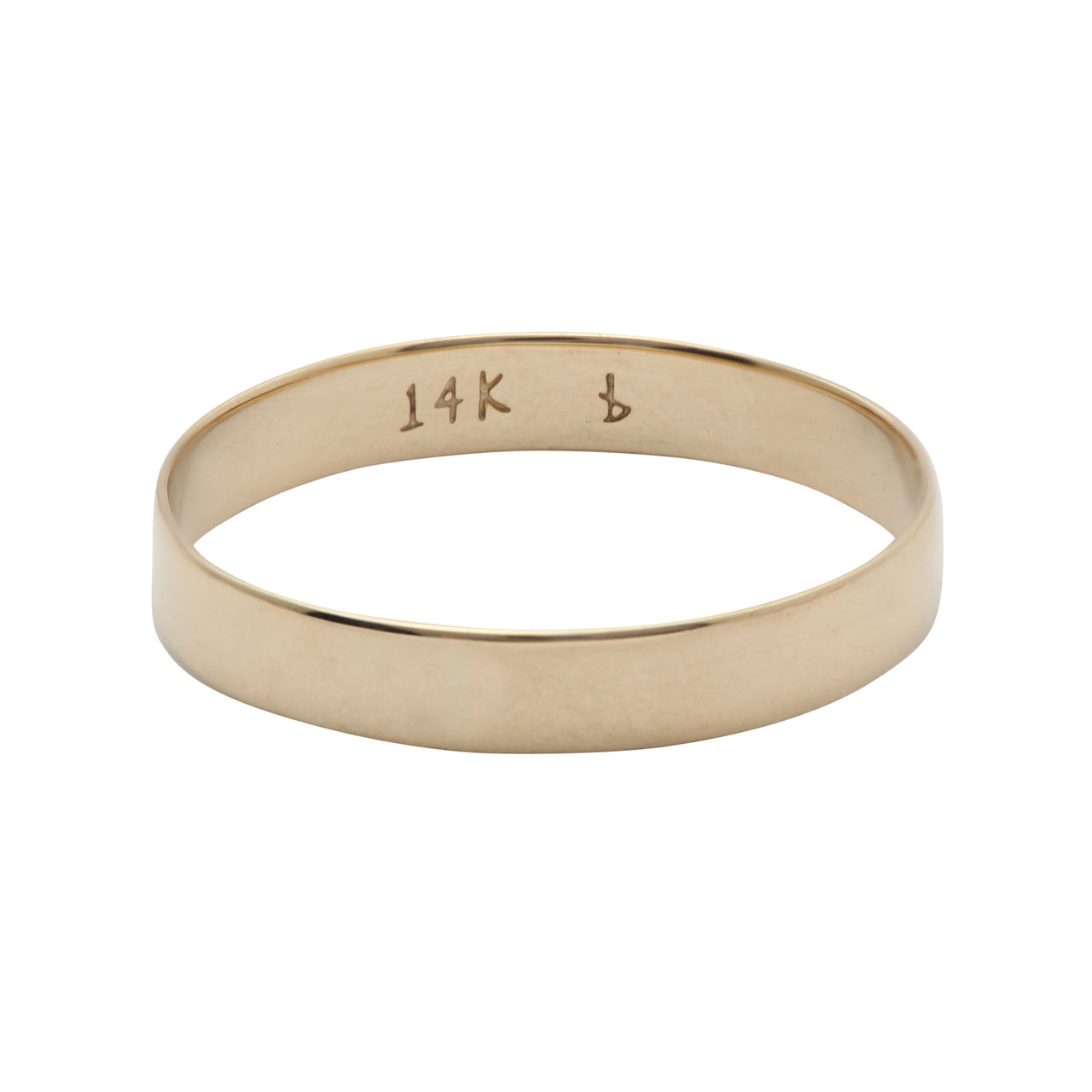 One of our most popular wedding bands are available in widths ranging from 2mm-8mm. Thin Rings are approx. .5mm thick. Light-weight, but sturdy, making a lovely, golden, promise, even sweeter. Available in your choice of 14K, or 18K. We are very sorry, platinum is not available for this item. 
You can personalize your Thin Ring with stamping! First 5 letters are free, and $8 for each additional character. Tiny letters/numbers measure at approx. 1.2 mm. To see what our stamping looks like, our Famous Letter Rings &  Pinky Club Classic rings use the same alpha/numeric kits as the Thin Rings. 
5 Letter Free - Extra letters/numbers available ­for $8 each. (25 Characters max.)
You can make your request for the 5 FREE Characters on this page. If you need 6 Characters or more, please use this link to make your request! If you are ordering multiple rings, you can email us to confirm the stamping for each item. 
Special Symbols: Please use: ( + ) to represent a plus sign, ( * ) to represent a star, (heart) for a heart, and (#) for hashtag!
To estimate the approximate width corresponding to your size click here to print out our handy width guide
Please allow 3 weeks, for us to make a Thin Ring, just for you. Stamping requests add one additional week. 
Every Bittersweets NY order, (over $100) is packed with an Ecobags Mini Spa Bag featuring an original design, made exclusively for Bittersweets NY!
You can try on a Thin Ring at the one and only, Catbird, 108 N 7th St, Brooklyn NY, 11249, or their Soho Shop, 253 Centre St, NY, NY 10013. Feel free to contact us/them for availability!