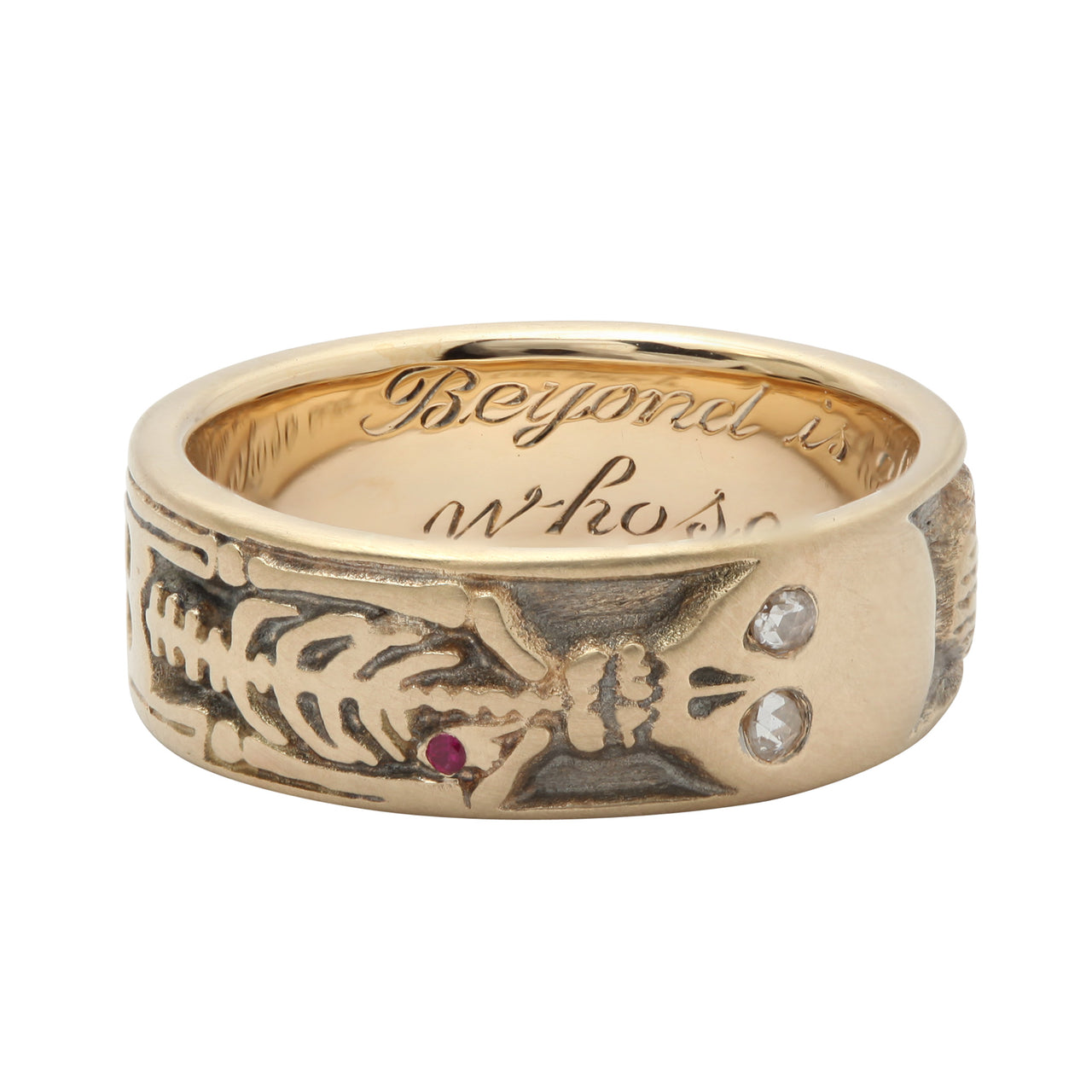 Beyond is all abyss. Eternity, whose end no eye can reach. —John Milton.
Our Beyond Is All Abyss ring was inspired by this lovely sentiment. These rings have become a favorite wedding band, and we couldn't be more thrilled.  Features 2 x 1.6mm- 2.4mm Rose cut diamonds, and a .9mm-1mm ruby heart. NEW! We now have a lab grown gem option! See thumbnail (blue back round) for image. Please email us with your lab grown diamond & ruby request, after placing your order. Or, use the notes section in our cart at check out with your request. 
Ring measures approx. 6mm-10mm, width. A smaller, size 5, for example, would be approx 6mm. A larger size, like an 11 would be approx. 10mm. Ring is 2mm thick.
We offer this ring with the poem hand-engraved inside. If you do not want the poem, please select "no poem". Additionally, we will personalize your engraving at no extra charge. If you would like the poem, and a personalized request, contact us for spacing, and options. There is only room for initials, or a date, with the poem. 
Because this ring is very wide, this style runs approx. a 1/2 size small. Please order a 1/2 size larger than the size you need. For example, if you wear a size 10, order a size 10.5 for a good fit. Email us if you need help with sizing!
Please note: patina does not work on the platinum option. If you want the dark back round behind the skeleton, please consider the 14k white gold option. 
Please allow 4-5 weeks for us to make a Beyond Is All Abyss Ring, just for you.
Every Bittersweets NY order, (over $100) is packed with an adorable Ecobags Mini Spa Bag featuring an original design, made exclusively for Bittersweets NY!
You can try on a Beyond Is All Abyss Ring at the one and only, Catbird, 108 N 7th St, Brooklyn NY, 11249, or their Soho Shop, 253 Centre St, NY, NY 10013. Feel free to contact us/them for availability!